.
I tend to read between the lines when reading Artists Statements. It's a shame that so many artists try to impress us with the worth of their work by filling their Statements with
intellibabble
and hyperbole. But regardless of all that, you can still tell a lot about their personality, depth of intelligence and style of commitment. It's a minority of artists who concisely and honestly explain the what and why of their oeuvre.
All of that was said to explain why I was just blown away when I visited the
Website
of
Christian

Faur
.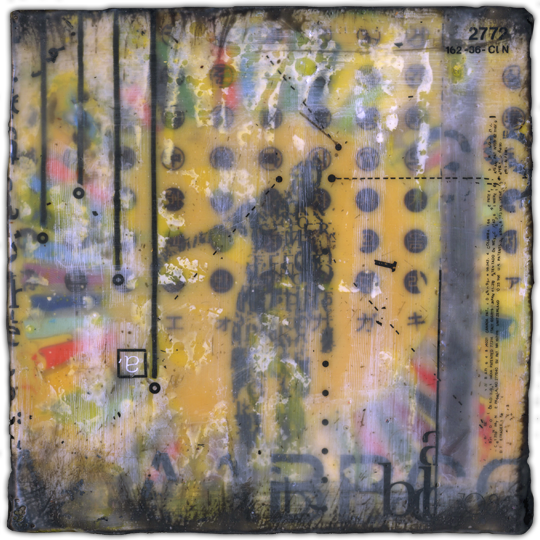 A physicist by training and computer technologist by profession would seem like an odd direction to come from. A short piece by the
Newark Advocate
helps fill in a few blanks. He's quite an artist though, as you'll see when you visit his
Website
. There are the Oil paintings that are quite somber in mood, works in fabric and fiber and conceptual work which includes a color alphabet. But what really got me fired up were his
encaustic

works
(above)
and the
wax crayon
pieces, below. I won't waste your time with descriptions; you really must see these works made from hand-crafted wax crayons, for yourself. These pointillist crayon works are much more than a pleasant novelty.
You'll want to give yourself plenty of time to peruse all his work. There are some truly great concepts here and it takes a while to fully comprehend the level of intelligence and commitment that he's brought to his oeuvre.