Male or female, you gotta love an artist with Guts; which is the title of the
yellow
painting below. That image is from the
Bellwether Gallery
where you'll find 42 examples of her work and other information. You can also see installation shots of her Sept, 07 Exhibit there, titled'
Dana Frankfort:

DF

.
There's nothing like seeing paintings in the context of a gallery or home to get the gist of their full personality. And that's something that comes across in each of her works.
Dana

Franfort
is all about painting one word, two or three words or sometimes even a very short phrase. But that is the sole content, composition and construction of her paintings. Well, and then there's the color; loud, bright, "hello, I'm over here" color. The truly amazing part of her oeuvre is how she manages to create a feeling of atmosphere, a dept of field.
There's a short interview at
Artslant
that gives pretty quick insight into her oeuvre. It's pretty straight up and straight forward. At the end of the interview she's asked which artists "challenge and excite you, both historically and currently?". The seven artists that she
lists
is quite a surprise. Check it out.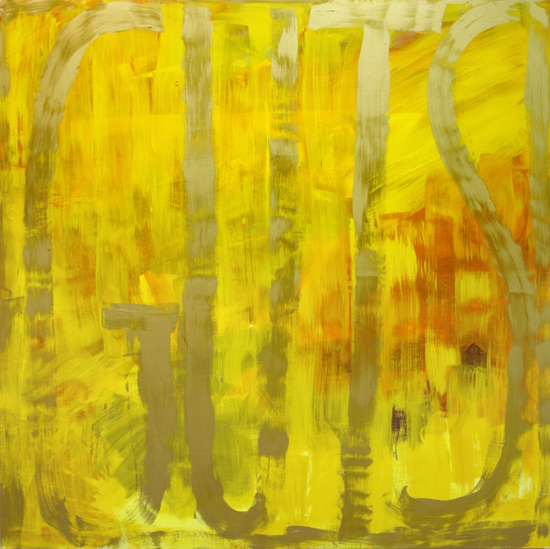 The bottom painting, titled "BELIEVE BELIEVE BELIEVE" 2006 Oil on canvas on panel, 45 x 84 inches, is from her Nov, 2006 Show at the
Kanto

/

Feuer

Gallery
.
She's also represented by the
Inman

Gallery
.
.