.
Don't ask me why, but soon after finding works by Hans Staudacher I found myself rocking with laughter and deciding that he was the Picasso of abstract calligraphy. The image above, really does it for me. The first impression is that the painting is translucent - until you study it. Quite an effect; this image is iconic and memorable.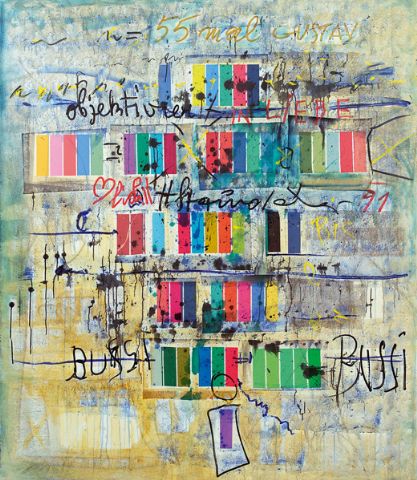 Brash, Bold, Gusto, Fervor are but a few adjectives that come to mind when viewing his work. This 1991 - oil and collage on canvas is at Artnet, along with 5 other works. It's very interesting, that they list 565 auction results for him, (that you can view if you're a subscriber).
You can also view 9 works here and 5 works here.
There are plenty of images out there for you on
Google Images
and
Clusty Images
. (
Yahoo; not so much.)
Hans describes his work thusly; quote "My painting is handwriting, color, dance, play, sign, inspiration, chance, speaking, word, movement, speed, superabundance. It is unbearable, impossible to understand for many, mischievous." unquote(H.Staudacher) Quote is from Lentos Museum of Modern Art, Linz.